When Janet and Ian Russell started producing soaps and body creams in their kitchen at Home Farm, Arran, little did they know that from these modest beginnings, Arran, Sense of Scotland would go on to become one of Scotland's best-loved brands.
Nearly 30 years later, their son, Andrew Russell, now Brand Director, talks through how the company has continued to grow while staying true to their roots as a manufacturer of Scottish luxury cosmetics and scented products.
Q. When was the company started?
A. Way back in 1989 by my parents Janet and Ian Russell and we still operate from the same premises today. It all came out of necessity to be honest, as they set up a shop to bring in an income and while dealing with tourists who came to the island they realised that people were interested in products made here.
Their first product was Arran mustard – way before toiletries you understand – made at the kitchen table from an old family recipe. The business became quite a success and was sold to Robertson and Baxter which in turn led the way from food to toiletries. My parents admired a few Scottish made products and had the production and packaging know-how to create another quality range of gifts. Arran Aromatics was launched at the Royal Highland show in 1989 and the rest, as they say, is history.
Q. What do you think makes Arran unique?
A. The formulation knowledge formed over the decades. The care and attention we put into our products. And of course, the ingredients which all start with the soft, pure water of Arran. With the re-branding in 2016 of Arran Aromatics to Arran, Sense of Scotland we wanted to expand this message and get across the nature of what we do. Live life unspoiled is our mantra now and it is helping shape everything we do going forward.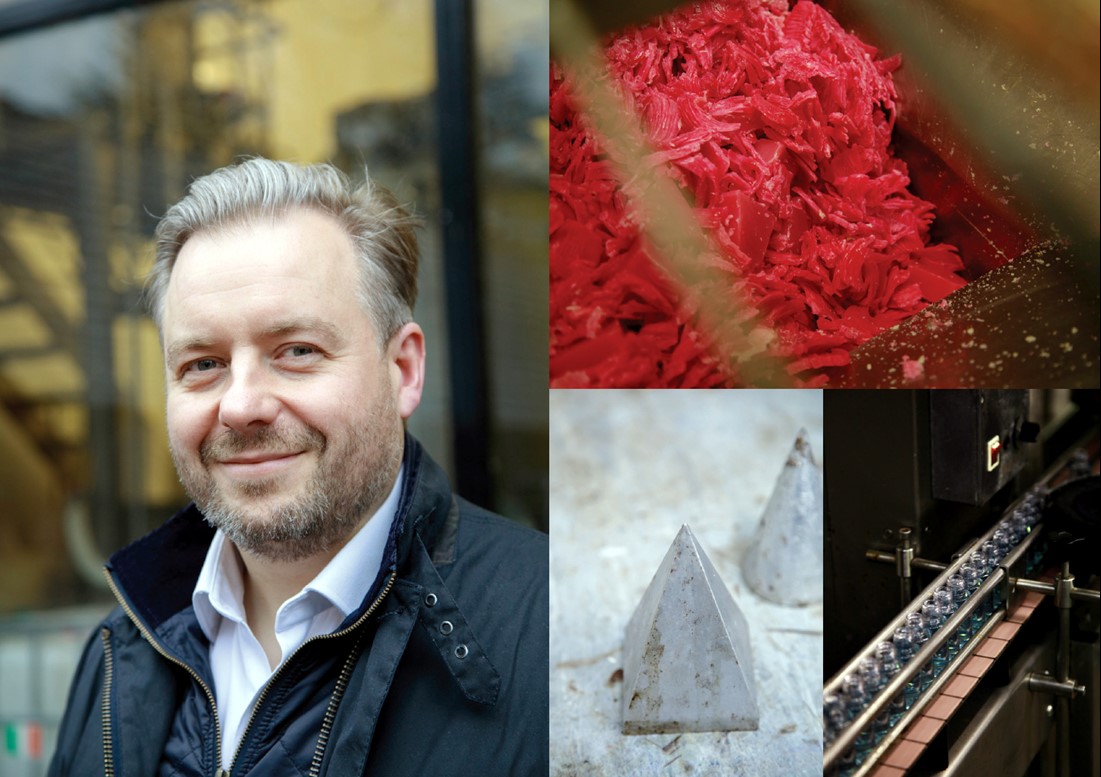 'Live life unspoiled is our mantra now and it is helping shape everything we do going forward.'
Q. What areas of growth are you focusing on?
A. Now that we have completed our rebrand and created over 180 products from scratch the plan is to take Arran all over the world. We are well known in Scotland and although we have been exporting in a small way for over 20 years we want to change all that. Now we want to bring a little piece of Arran to you no matter where you are in the world.
We're also developing a range of Shea butter products that has lead to us working with a charity that ensures the farmers and producers of the raw product get a fair wage for the work they do. There's no point in us sitting here in our unspoiled corner of the world producing quality items if ultimately it's both detrimental to the people who help make it happen and the planet as a whole. If you want to have integrity and have your customers buy into your brand and your products, you have to have an ethical approach or it all means nothing.
Q. Business news or announcements?
A. At long last, we are launching our new gifting collection which allows our customers to build gift packs to meet their need. We have a new hand cream formulation based on active ingredients with a Scottish twist such as Sea Buckthorn. An everyday luxury that does you good. We're very proud of the end product as it has come out of developing and testing over a dozen versions to come up with the formulation we have today.
Q. What attracted you to work with Carron?
A. At Arran, we're passionate about producing our products here, in Scotland and as Carron do the same, this brings an authenticity and heritage that appeals to us. As a business, we design, develop and manufacture in-house and Carron do the same. Although we have supplied products to Carron in the past, both companies supply Cameron House on Loch Lomond. When guests stay at the hotel and lie in the bath, both the bath and the toiletries they use tell a story. You're not just going for a bath, you're soaking in Scottish product.
Q. And finally, what are the best Arran products for a long soak?
A. We do bath and shower gels in all our collections although I do have my favourites. For men, the Lochranza range has a great lasting, fragrance and our Bergamot and Ginger range, currently stocked at Cromlix House, is another great choice. Although if I was pushed I'd go for the After the Rain collection. It has been part of our range for years and there's a reason for that. It's a classic and you can't go wrong there.