Carron has existed in many forms since it was first established in 1759, but a management buyout in 1982 lead to the Carron Bathrooms we know today.
To find out more about the changes that took place in the business from the 1980's to the present day we spoke to two of the key architects in this change. Former Technical Director Allan Lawson and David McMorrine, the co-owner of Carron and, until recently, the Managing Director and Chairman give some insight into what it takes to create a company like Carron bathrooms.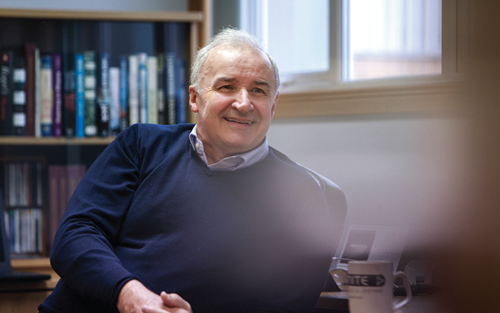 1. When and how did Carron Company become Carron Plastics?
Allan Lawson: The change to Carron Plastics happened around 1970 as it had been going for a couple of years before I started in 1974 but when the company went into receivership in 1982, five of us bought it with help from the Scottish Development Agency and a mortgage on our house. Ultimately the inspiration for buying Carron was to save our jobs.
David McMorrine: Had the business not been saved, it would have decimated the local community that had been built around the Carron Company.
AL: The Managing Director at the time, Cliff Fenna approached me to become Technical Director. He also approached a salesman and an accountant to ultimately create a team of five to run the company. We started with six bath models and worked our way up from there.
          2. David, what brought you to Carron?
DM: I had been working in manufacturing for almost twenty years but had ambitions to own my own business. I believed my experience could enhance an existing operation and Carron was perfect, not least because I lived only 30 minutes away from the factory. I had been looking for investment opportunities and an accountant put me in touch with an equity investor, John Hewitt and we still own the business together almost two decades on.
          3. Alan, when did you step back from the business?
AL: In 2010, I had given 28 years to the business and felt it was time to take a break although I've always kept close ties to Carron and David over the years.
          4. What big changes affected the business?
AL: The Avocado Moment. When coloured baths fell out of favour it actually allowed us to streamline our purchasing, as we no longer had to stock various colours of acrylic. We could buy white acrylic in larger quantities and it helped reduce the costs of manufacturing the baths themselves.
DM: One of the biggest changes was the way we designed baths. In the 1980's and 90's we effectively made what we were asked to make. As we moved into the 2000's we were listening more to the customers needs and using that information to control what we designed.
AL: You can't compromise design for price. This led to the first clip-in panels that were popular in the Greek market. These were built to the same quality as the baths and created a more superior product. We also started to design baths that answered the customers' needs and we started to take products and ideas to them. It is a continual process that allowed Carron to start to innovate as opposed to being lead. Innovation helped us gain more control over the product.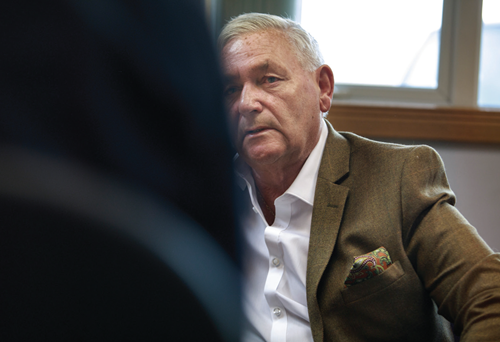 5. What has changed in the way of business culture?
AL: We once used Hercules the Bear to promote Carronite. We decided to book him for a photo-shoot and spent the day trying to tempt a 50 stone grizzly bear into a bathtub with chicken legs. But as funny as that was it was our way of promoting Carronite as an everyday luxury and not just for contract work. It was trying at the time and not something you would see now but it worked.
           6. What business achievements are you most proud of?
DM: There have been a number of things over the years but in 2001 we invested £250k in a Vertical Thermoformer machine, which allowed us to create better quality baths faster and more efficiently. We had to borrow money to do it but it paid off in the long run.
           7. What products are you most proud of?
AL: The Delta was really our first bath sold on design but it was also created in a way that allowed more efficient transport to overseas customers therefore increasing the margins when selling abroad. This was no longer a 'me too' product, this was true innovation from Carron. And you can't build battleships; people want a practical bath that is beautiful, too.
DM: After this we launched our first Showerbath. At first we thought it would be a niche product as it was completely unique but it proved very popular. We thought we would sell 100 in a year yet our first order was for 100.
We were leaders when it came to minimalist design and that gave our baths the flexibility needed to be placed in any bathroom style. You need to commit and not just create single baths but create a range of sizes. With these ranges people had a greater level of choice when they bought from Carron.
          8. So what are the plans for Carron's future?
DM: We'll keep moving forward. Keep innovating. We've never compromised on design and the materials we use, and that has allowed us to keep the Carron name synonymous with quality.
AL: Things have changed massively in the relatively short time since I was involved with the business. I do sometimes miss it and all the people and characters I met over the years but it's good to know that Carron Bathrooms is still going from strength to strength.