Whirpool
Rejuvenate in luxury.
Carron's whirlpool systems offer a range of benefits to help rejuvenate weary muscles and tired minds.
---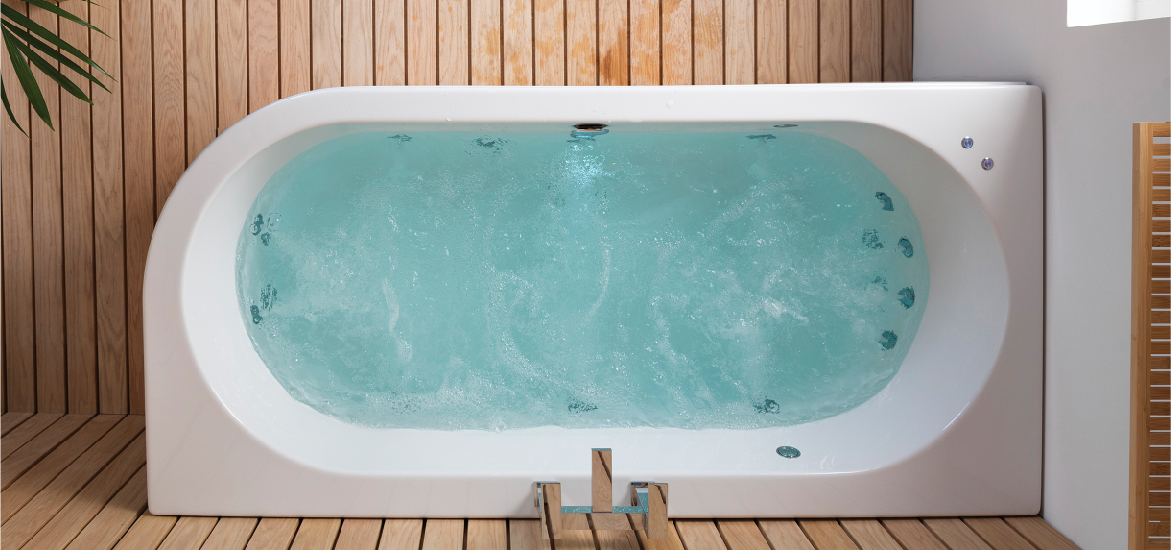 Whether your goal is increased wellbeing, to relieve tired muscles after sports or exercise or just plain, self-indulgent relaxation, Carron Bathrooms have a C-Lenda whirlpool system that will take your bathing to the next level.
Why C-Lenda?
There are a number of whirlpool systems available on the market but at Carron we work with C-Lenda for a reason.
The C-Lenda Whirlpool system is the most technologically advanced system available on today's market. This unique jet system has been designed by Markon in New Zealand and ensures the most comfortable bathing experience over a wide range of settings and functions.
Almost all baths in the Carron range are compatible with this whirlpool system and are made to order and hand-fitted to your specification by our skilled technicians at our factory in Falkirk.
Our Systems.

System A:
6 side jets
The 6 Flush Centro Jets give the ultimate vigorous massage with increased performance delivered due to a high air to water mix ratio. This can be controlled by the fingertip adjustable flow control.
System B:
6 side jets, 6 back jets, 4 feet jets
In addition to the 6 Centro Jets, Flush Mini Jet clusters deliver a concentrated hydro massage to specific muscle groups including the lumbar, feet and shoulders. The ideal system for those who like to keep active, providing the right level of recovery to get you ready for the next day.
System C:
6 side jets, 6 back jets, 4 feet jets, Chromotherapy Light
The addition of the chromotherapy light in our top-end system brings an extra level of recovery and relaxation. Chromotherapy lights aid health and harmony and can also help such conditions as Seasonal Affective Disorder (SAD). This system has all the benefits of our combined massage and recovery features with added relaxation for the mind as well as the body.
All systems are made to order. Please check with your supplier or Carron Bathrooms before ordering.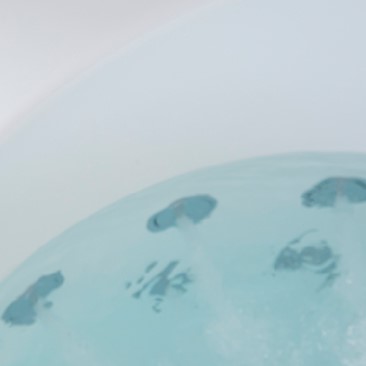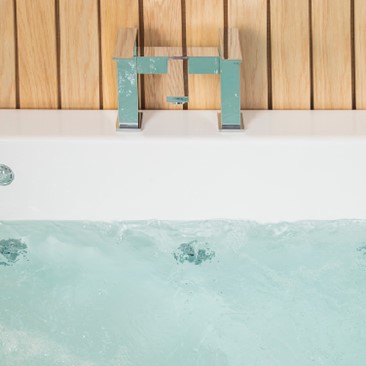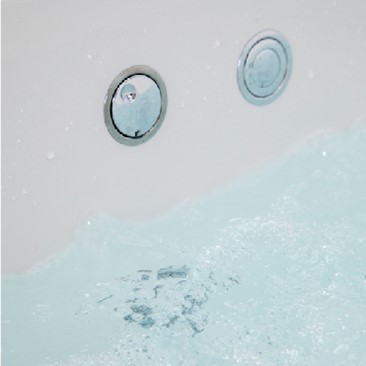 Chromotherapy
The chromotherapy light systems come with 11 set colours and five automatic colour cycles to help you get the most from your whirlpool. In addition, all colours can be used on their own.
• Energy Cycle Red, Orange, Yellow, White, Yellow, Orange
• Tonic Cycle Yellow, Red, Green
• Relax Cycle Blue, Green, White, Green
• Sun Cycle Yellow, Orange, Yellow, Light Blue, Yellow, White
• Dream Cycle Green, Blue, Light Blue, White, Orange, Red, Violet
The chromotherapy light is also available on its own or as an addition to any system.